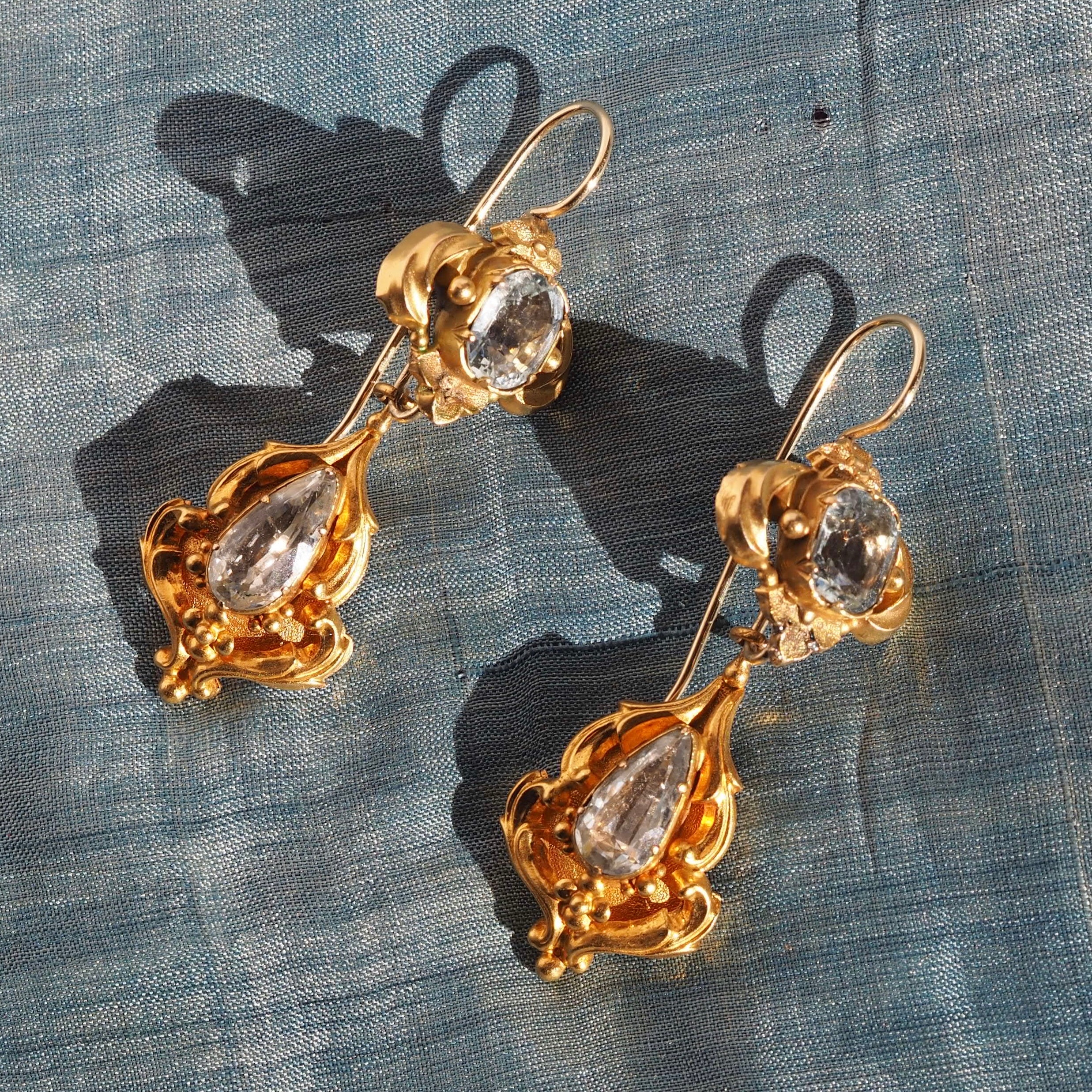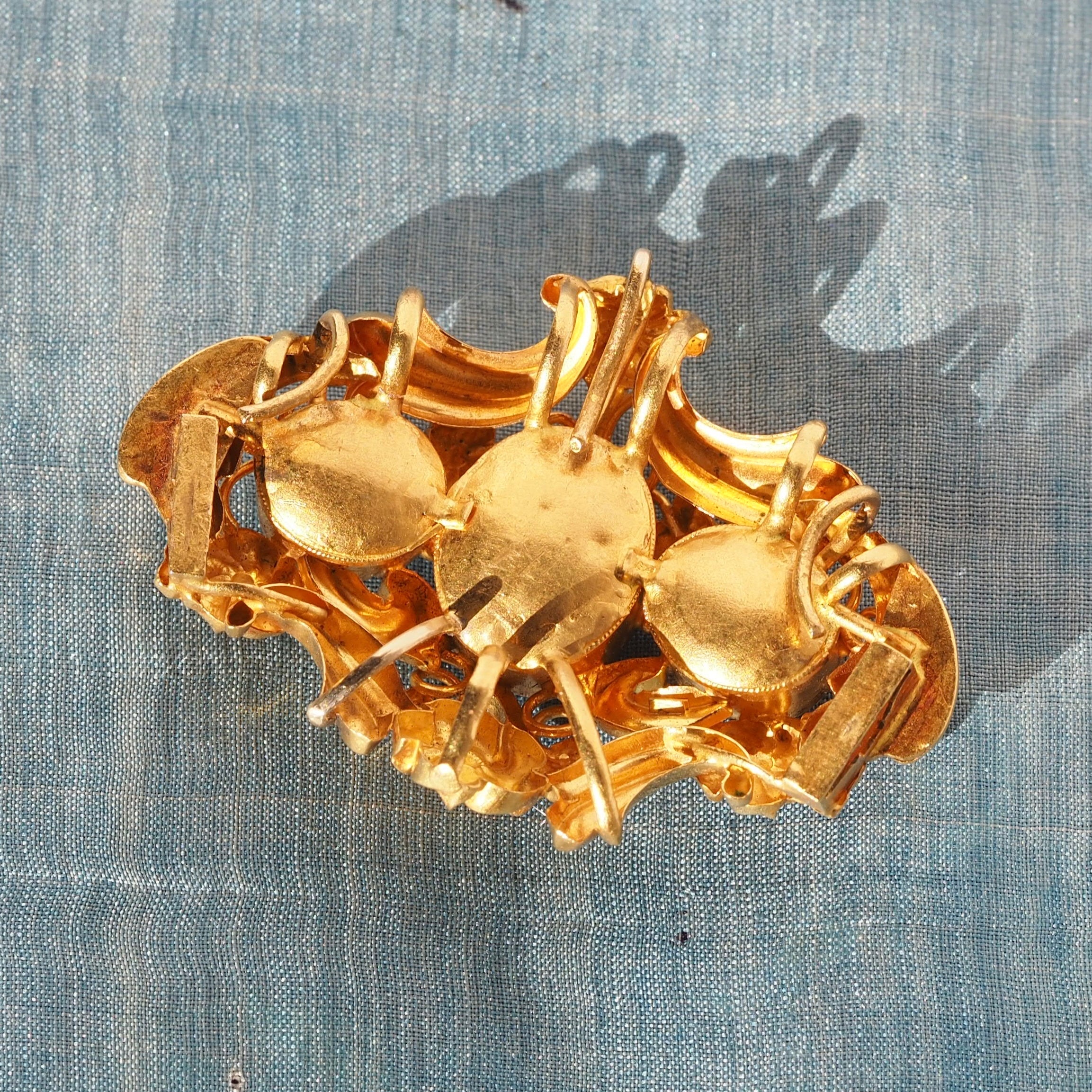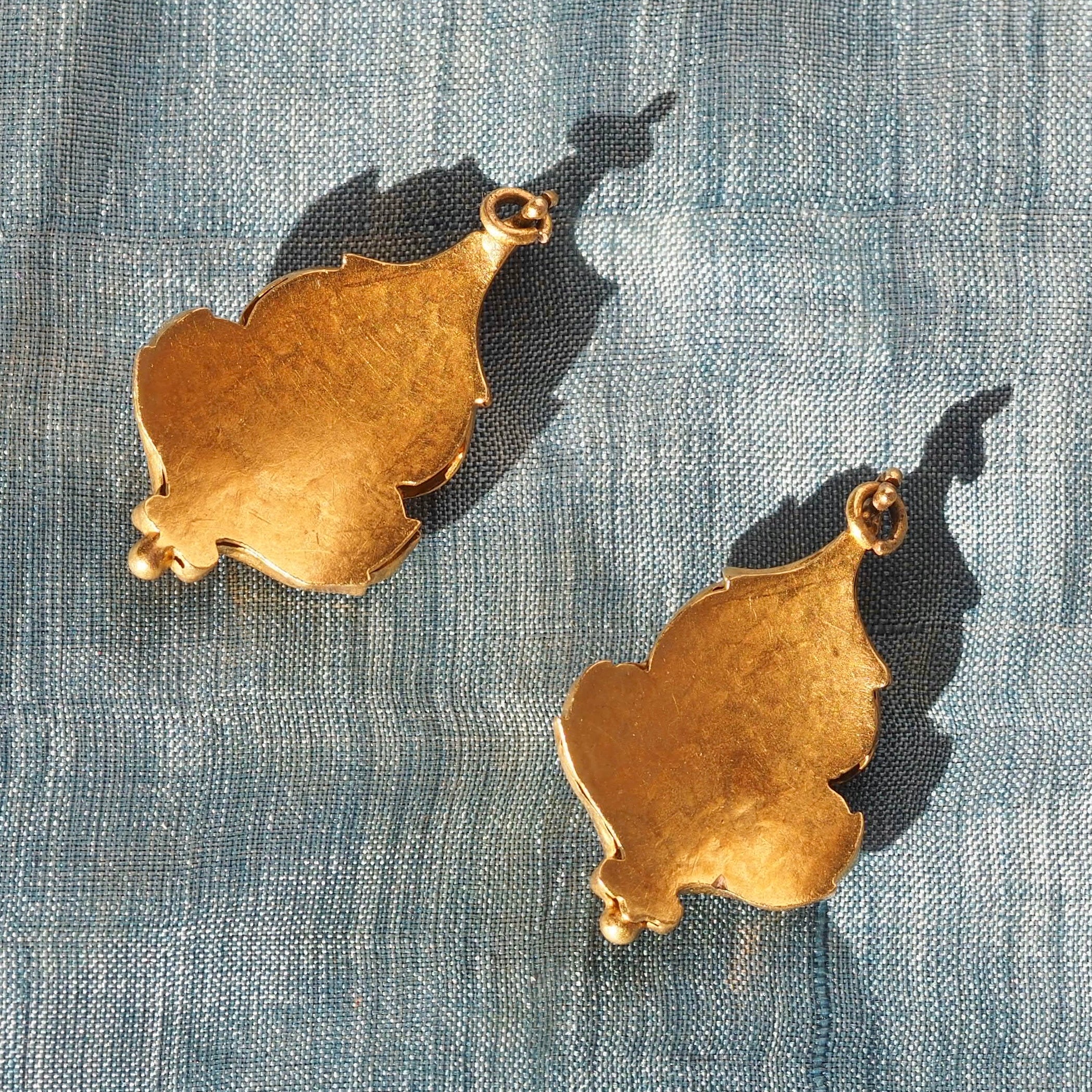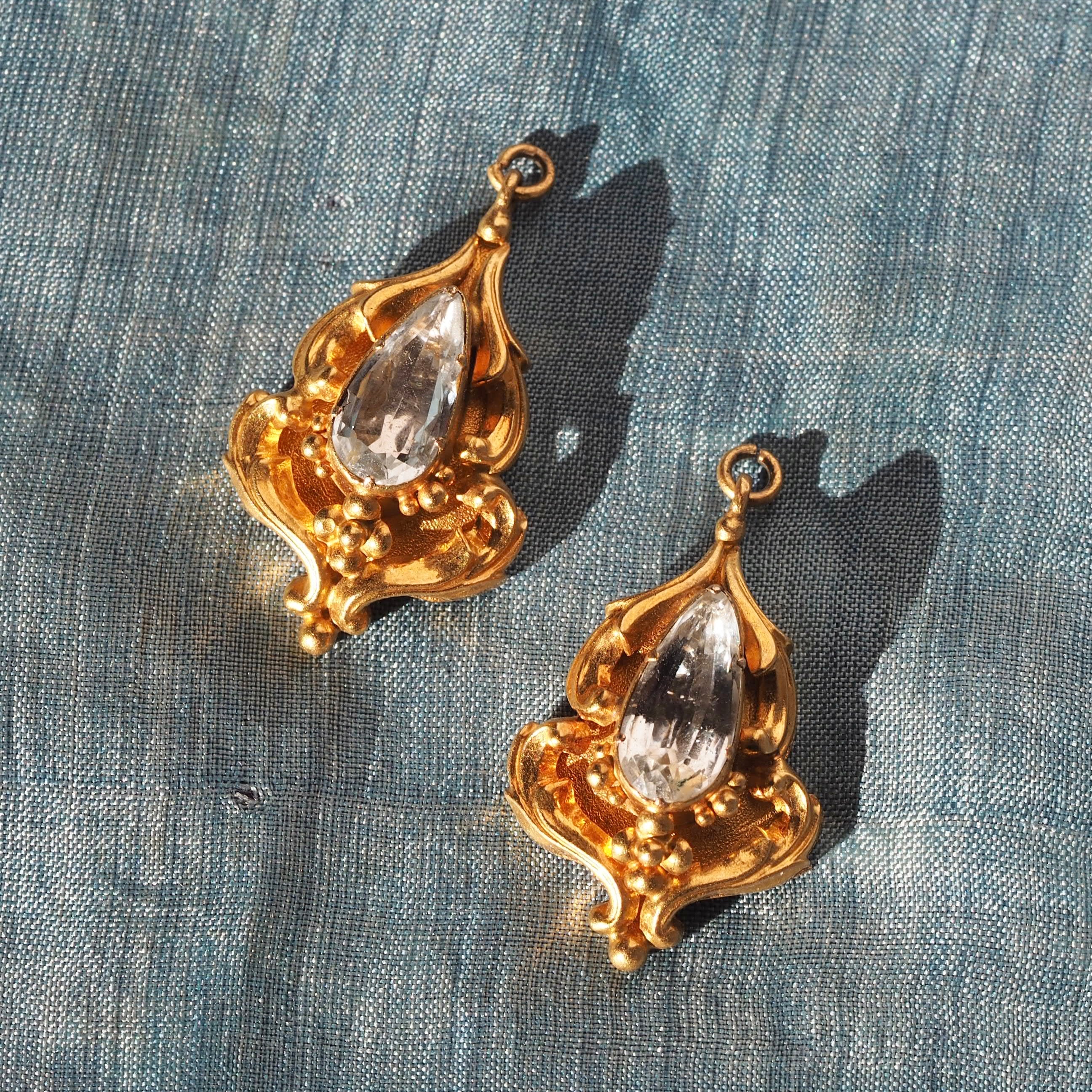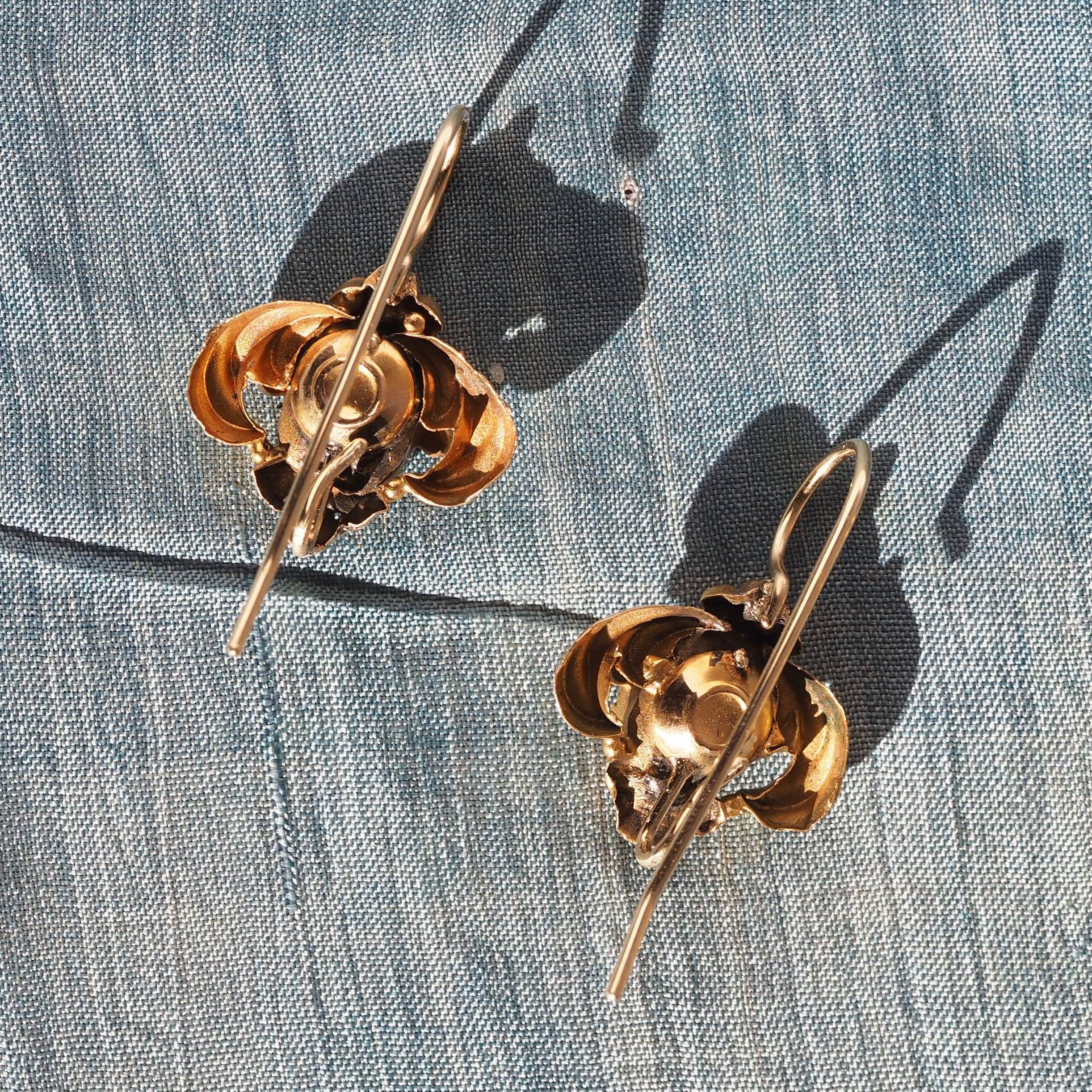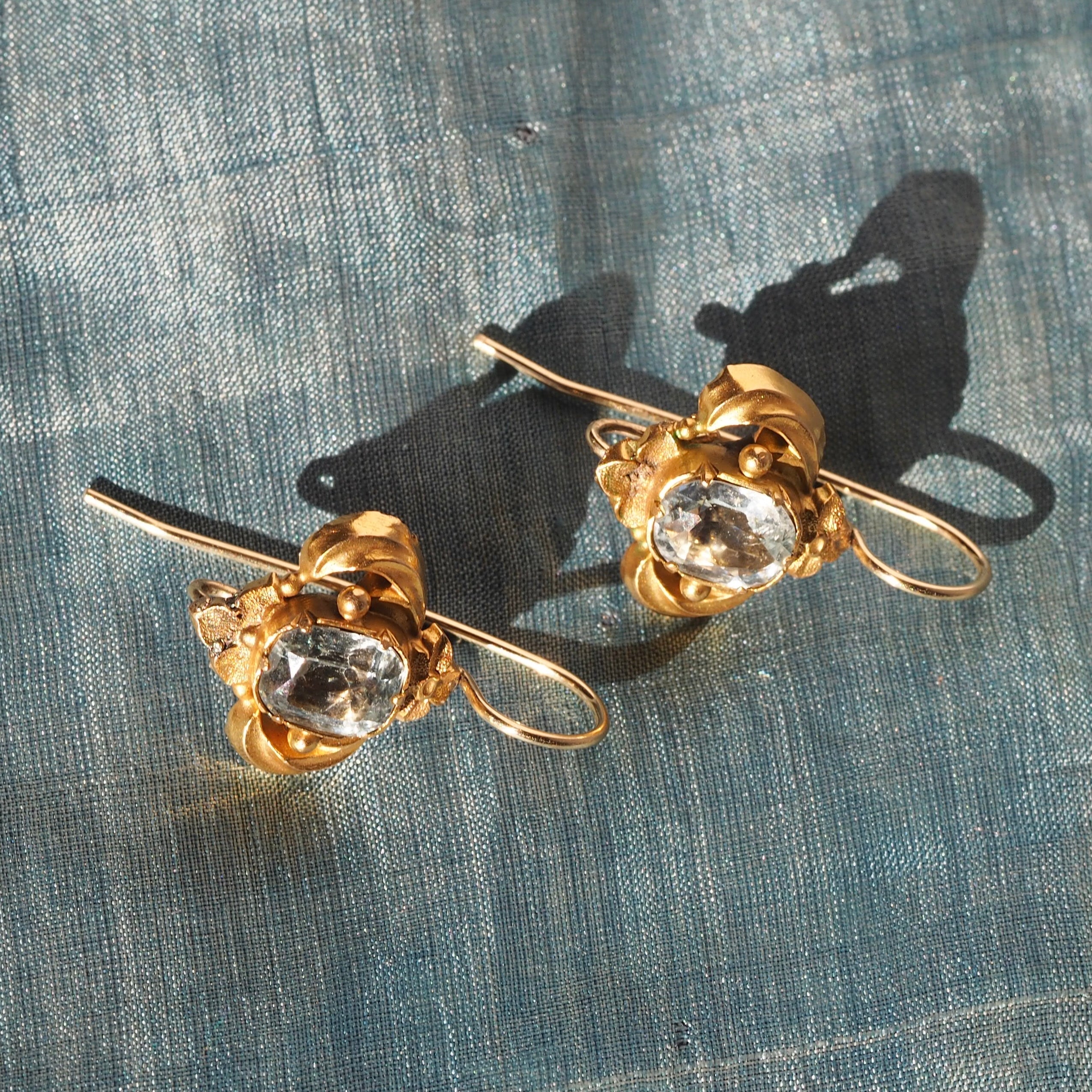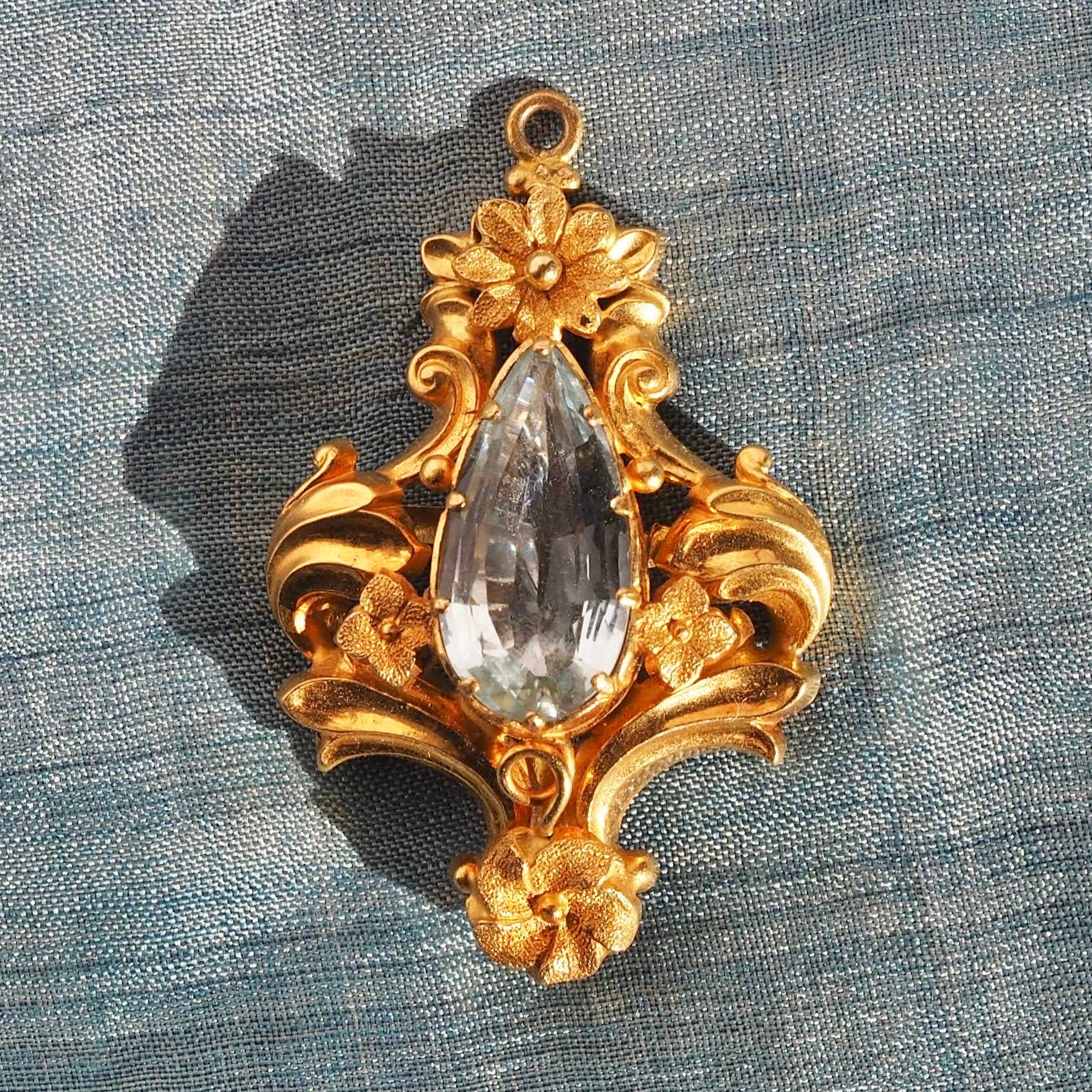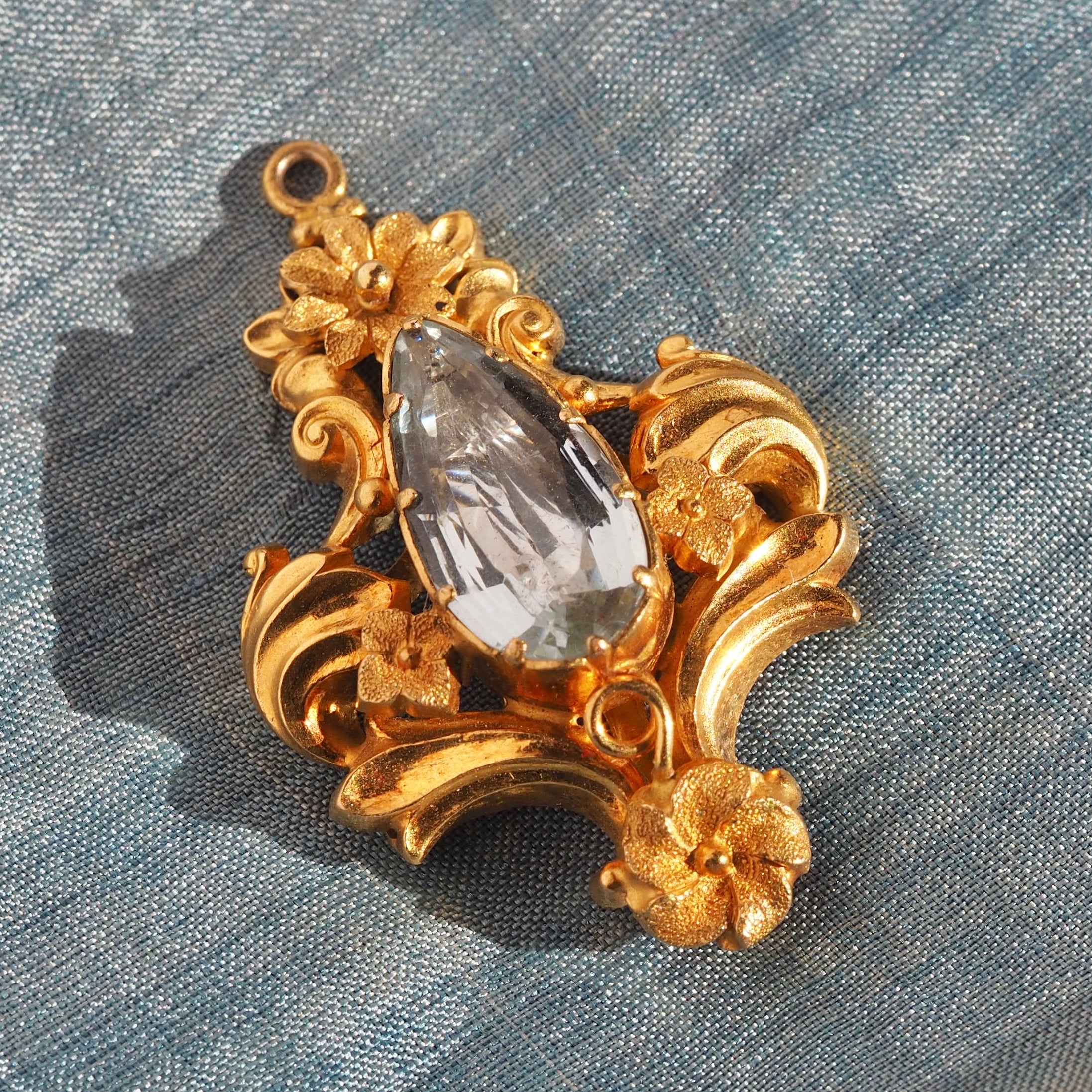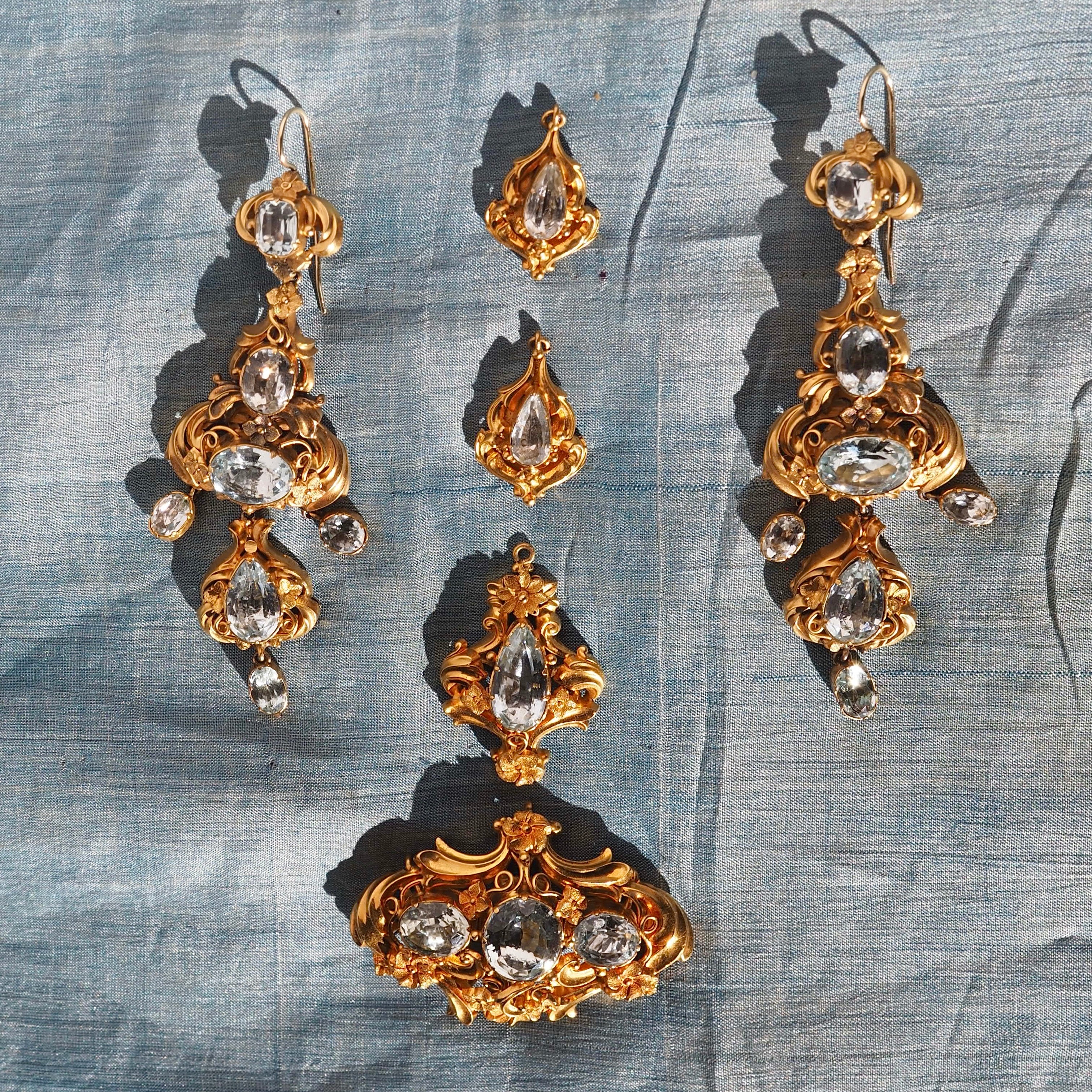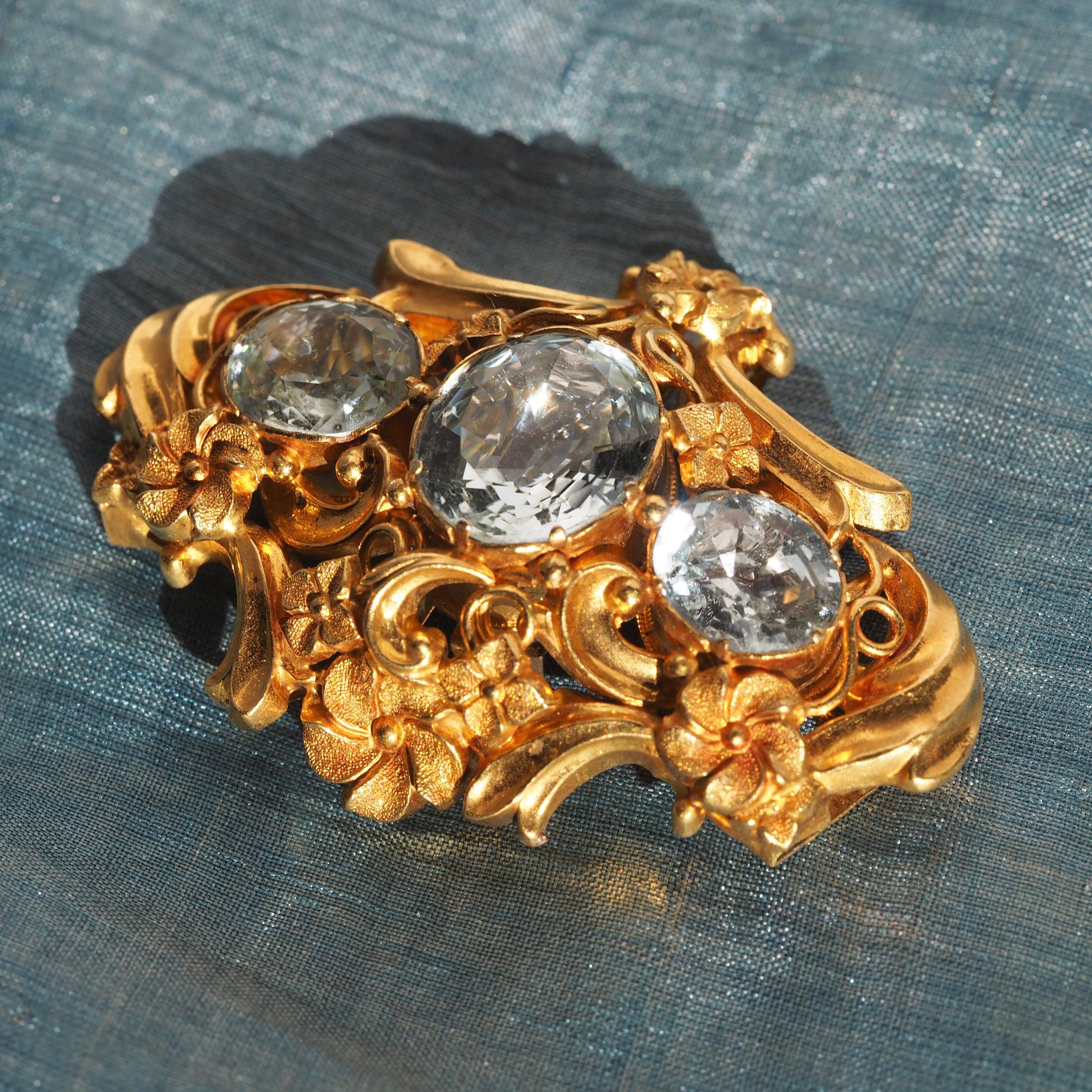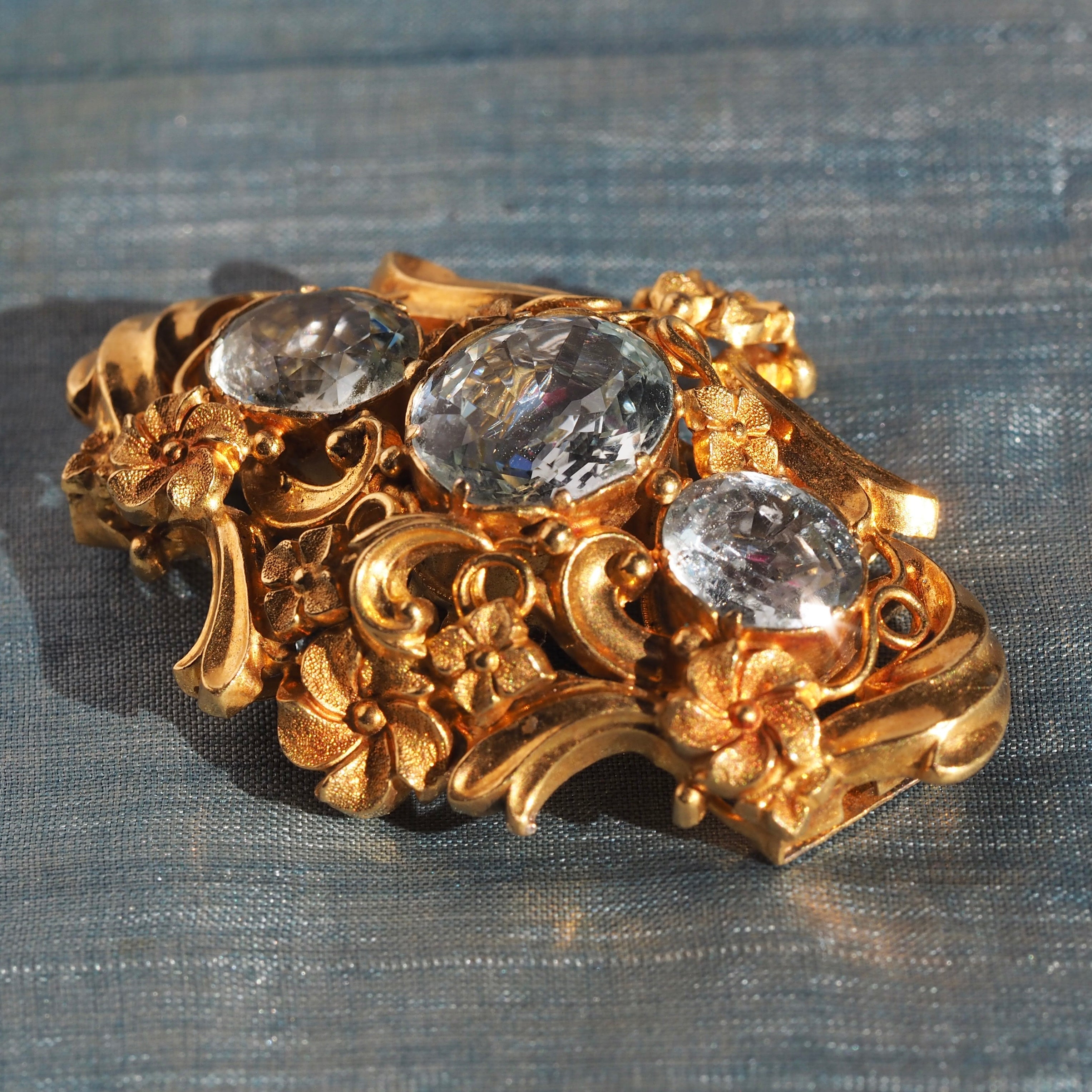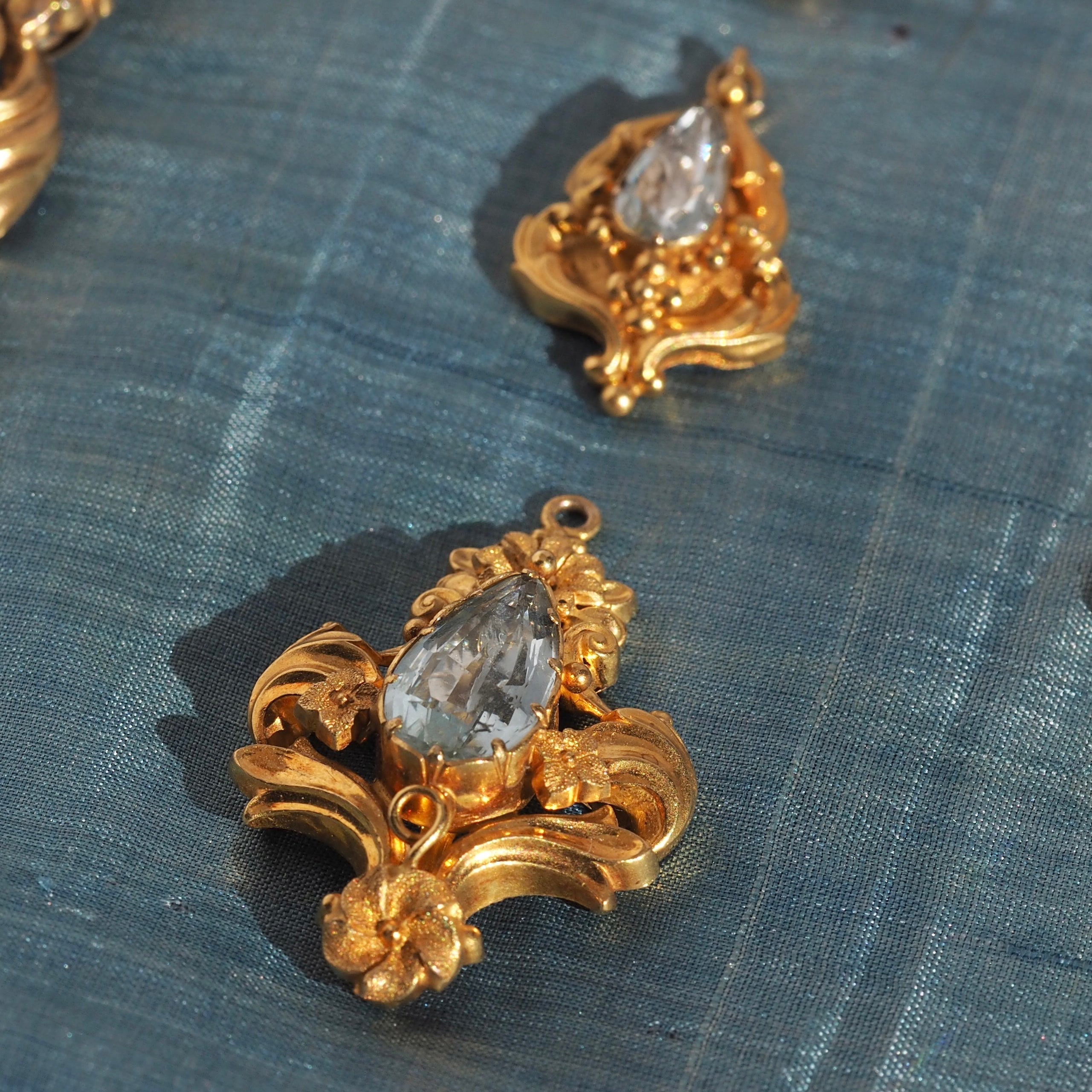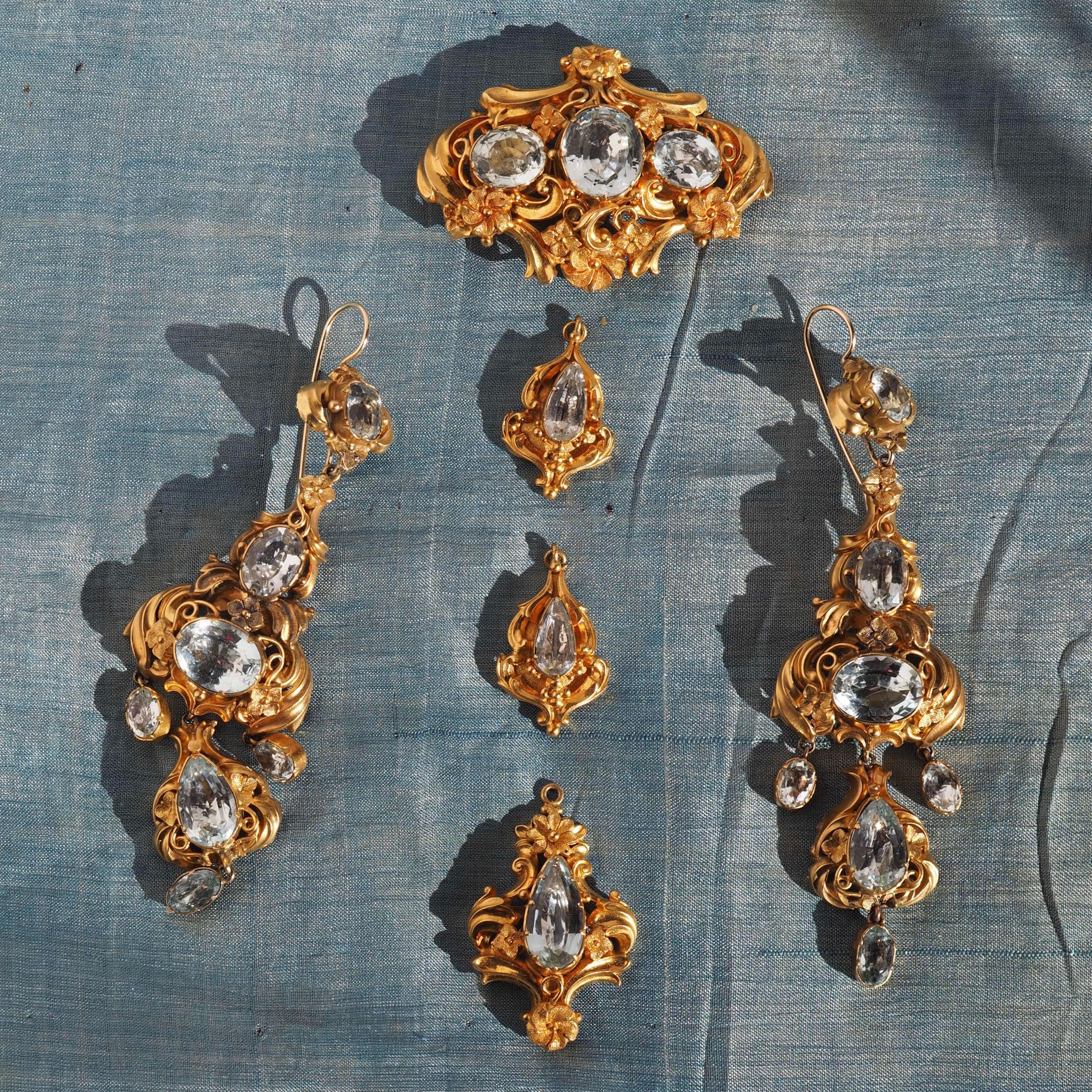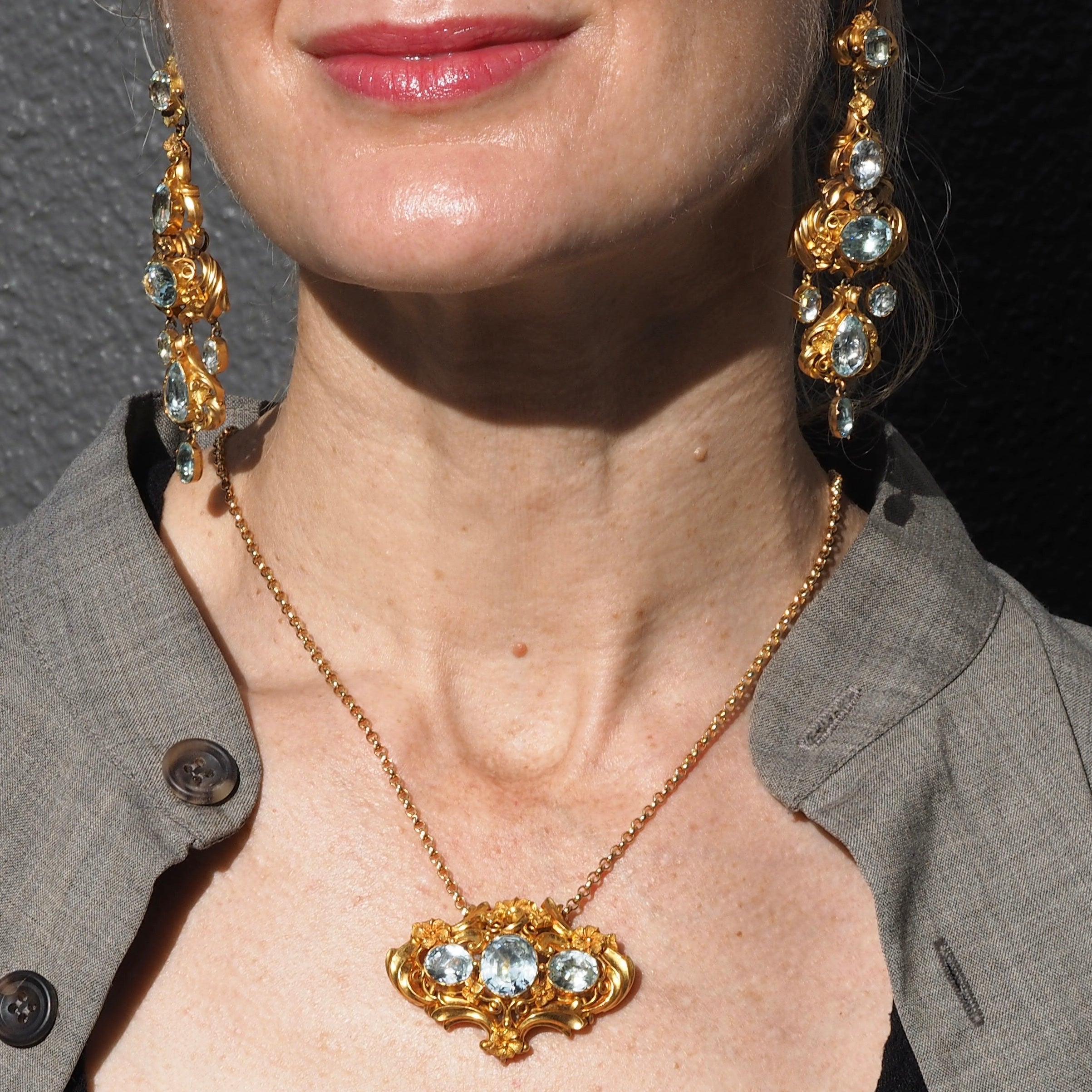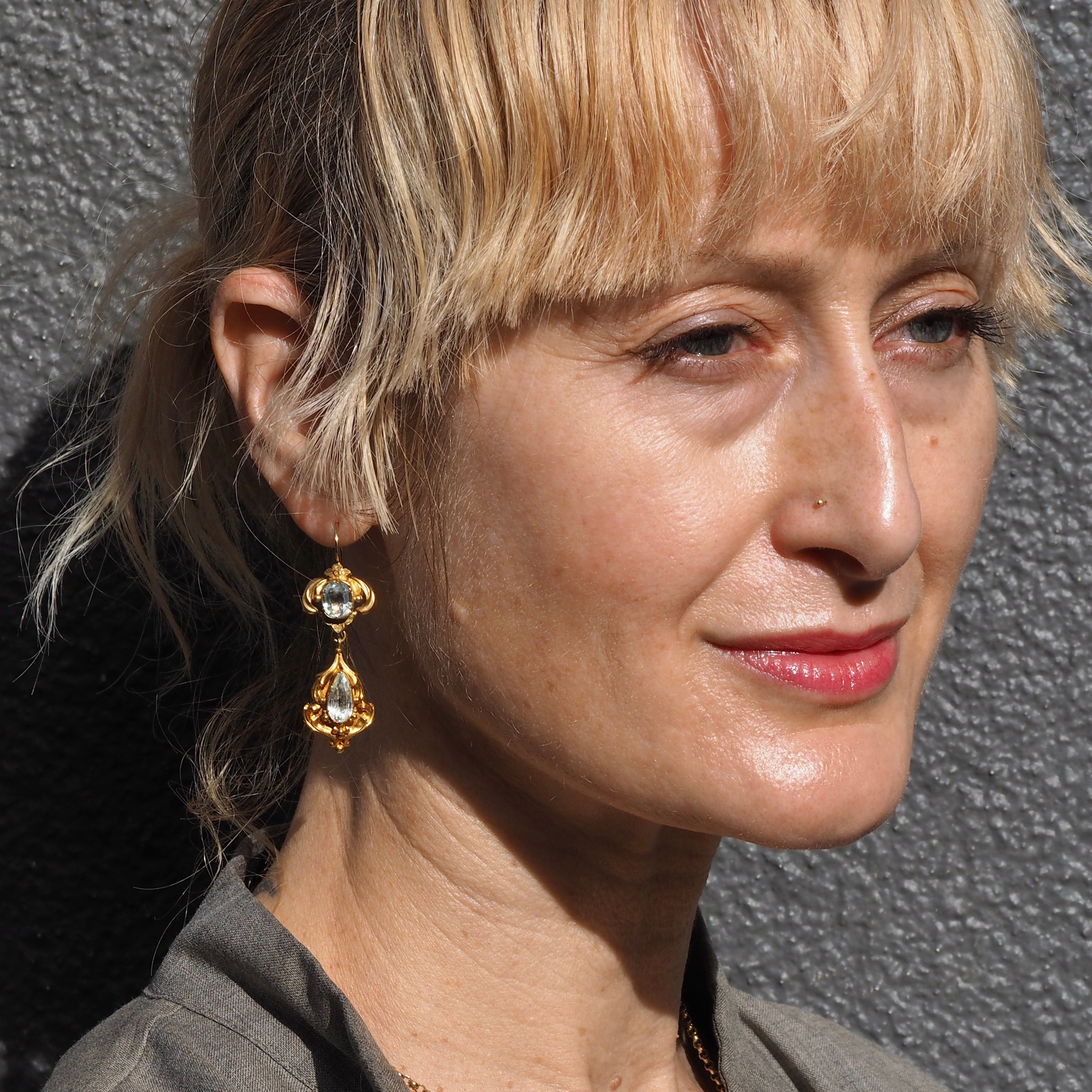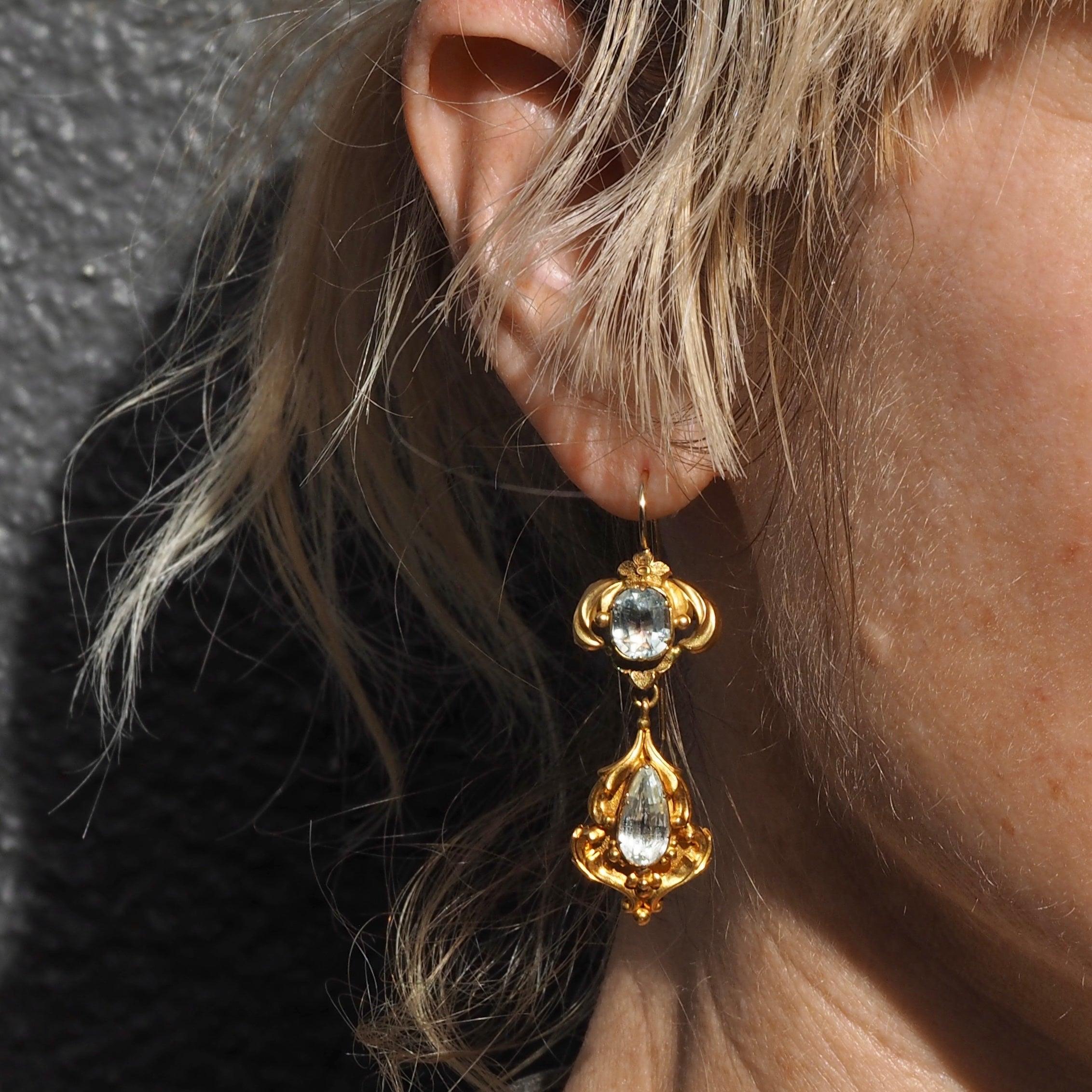 Antique Georgian Regency Style Aquamarine and Topaz Demi-Parure Suite of Gold Earrings and Pendant/Brooch
Sale price

$16,500.00
Regular price
(/)
---
We are thrilled to offer this exceptionally fine Georgian era Regency style demi-parure suite consisting of stunning, shimmering aquamarines and topaz in rich high karat gold. 
These pieces were crafted over two hundred years ago, likely in France or England, with gorgeous undulating repousse work adorned with little flowers and wire tendrils, and dripping with dangling stones and interchangeable pieces. The supple "bloomed" gold and graduated foil-backed gems create a truly brilliant effect. Characteristic of the Georgian era, the bits and bobs can be worn in a variety of ways to different effect. 
The earrings are wonderfully versatile in classic "day to night" convertibility, with the smallest element suitable as fairly casual everyday earrings. By adding the mid-size pieces, you have a dressier pair that would be lovely for an evening event, and by adding the largest elements you create an absolutely stunning statement for the finest occasions. The girandole pendant is also a brilliant treasure with three hooks to add the various attachments, a tongue-in-groove slide for a chain or a pin set to convert to a brooch (a later Victorian addition), and a ribbon slide, as these pieces were often worn on silk ribbons.

This suite of jewels was made in the Regency style (or Empire style), epitomized by Napoleon and Josephine and neo-classical shapes. This was a time of flowing gauzy dresses with empire waists, hair worn up and tightly back so that all the attention was on the neckline, showcasing cascading earrings and necklaces. 
Each stone has been verified by a certified Graduate Gemologist and the gold has been tested electronically as well as by acid. The repousse sheets of gold have been bloomed (an era-typical process of mercury dipping gold to create a layer of pure high karat gold at the surface), while the wires range from 15k-18k. The earring tops and one hook on the pendant were recently repaired. The original earring closures were back-to-front (typical of the time period), but had been repaired in antiquity with lead solder. The recent repairs removed all traces of the old lead solder and added sturdy 14k shepherd hook earring wires that will last for generations to come. The repairs were all done very cleanly with a laser, so as not to heat up and damage the antiques. 
One interesting discovery about this set is that we have concluded that the 
two smaller earring attachment pieces are not original to the set. With close inspection, 
one can see that the construction is slightly different (especially apparent from the back), though certainly still from the Georgian era, and the gold is a perfect match. The stones, while an excellent match in color, are blue topaz instead of aquamarine — which helped confirm the theory that these two pieces were not original to the set. Likely, the owner acquired them from another set or had them made in order to have a mid-size option between the "day" and "night" versions of the earrings — an "afternoon" option, if you will. 
This absolutely brilliant suite of jewels are museum quality and have been lovingly passed from generation to generation for over two hundred years. With care, they are beautifully well-preserved and ready to be worn for generations to come. These parure suites are extraordinarily rare and we are delighted to be able to offer this treasure. Please do not hesitate to get in touch with any questions.


-Gold tests as 15-18k
-Likely French or English
- Georgian era Regency style (late 1700s to 1820s)  
-Original foil-backed aquamarines with the exception of the middle-sized earring attachments (see photos) which are additions of the same era, either custom-made or purchased from a different set. These portions are topaz and are a great match to the aquas. 
-Ear-wires were originally back-to-front style, but were damaged and repaired in antiquity with lead solder. Recently, the solder was completely removed and shepherd's hook ear wire replacements were made in durable 14k gold
-Victorian era pin attachments have been added so that the central pendant can be worn as a brooch which became fashionable with the high-collared clothing of this later era
-Pendant/brooch portion measures 34.1 x 48.3mm and weighs 11.6 grams. Central aquamarine measures 12.8 x 11mm
-Upper earring portions measure 15.8 x 15.9mm (excluding ear wire) and weigh 4.2 grams together, with aquamarines which measure 6.5 x 8.3mm
-The smaller earring attachments are Georgian era additions to the set which measure 25.2 x 15.3mm and weigh 4.1 grams, with topaz which each measure 5.5 x 11.2mm. 
-Large earring attachments measure 72.2mm x 25.8mm and weigh 16.8 grams, with central aquamarines measuring 12.7 x 9.8mm
-Single pendant/brooch attachment measures 22.7 x 35.8mm and weighs 3.5 grams with an aquamarine measuring 8.3 x 15.9mm 
-14k gold stick pin attachment components weigh 1.5 grams 
Antique Georgian Regency Style Aquamarine and Topaz Demi-Parure Suite of Gold Earrings and Pendant/Brooch
Sale price

$16,500.00
Regular price
Choose options